Regular price
Sale price
$17.99 USD
Unit price
per
Sale
Sold out
No Benzene, Cruelty-free. Vegan-friendly. Made in the USA. 
What it is: Suitable for all hair colors, including dark or black hair, our bestselling Volumizing Dry Shampoo absorbs oil and residue, leaving hair refreshed and voluminous in between shampoo washes. Infused with a soothing natural scent, its aromatherapeutic Lavender essential oil helps calm your mood.
Why we love it: Hair Dance Volumizing Dry Shampoo is a safer, more environmentally-conscious alternative to aerosol dry shampoo. Its relaxing, natural Lavender scent soothes the senses for a peaceful calm. Suitable for both on-the-go and at-home use, simply screw the lid on tightly and throw it in your gym bag, backpack, or purse for a quick and easy hair refresh!

Caution: While it is rare, sometimes this product can experience pressure changes in transit. Shake the bottle, if needed, to allow for the powder to settle in the bottle.
How do I use it? Divide hair onto sections. On dry hair, spray powder onto the roots or wherever volume is desired. Brush through or massage into scalp with fingertips to reveal the look of refreshed and fuller-looking hair. Style as desired. 
Learn more about how to use our dry shampoo here. 
Ingredients:
Organic Oryza Sativa (Rice) Starch, Organic Colloidal Oatmeal, Silica, Lavandula Angustifolia (Lavender) Oil Organic Olea Europaea (Olive) Leaf.
Shipping & Returns

Ships within 2 business days. Arrives in 3-7 days. You may return or exchange any eligible (unopened and unused) items by mail within 30 days of you receiving your order for a refund to the payment used or for store credit.
Share
View full details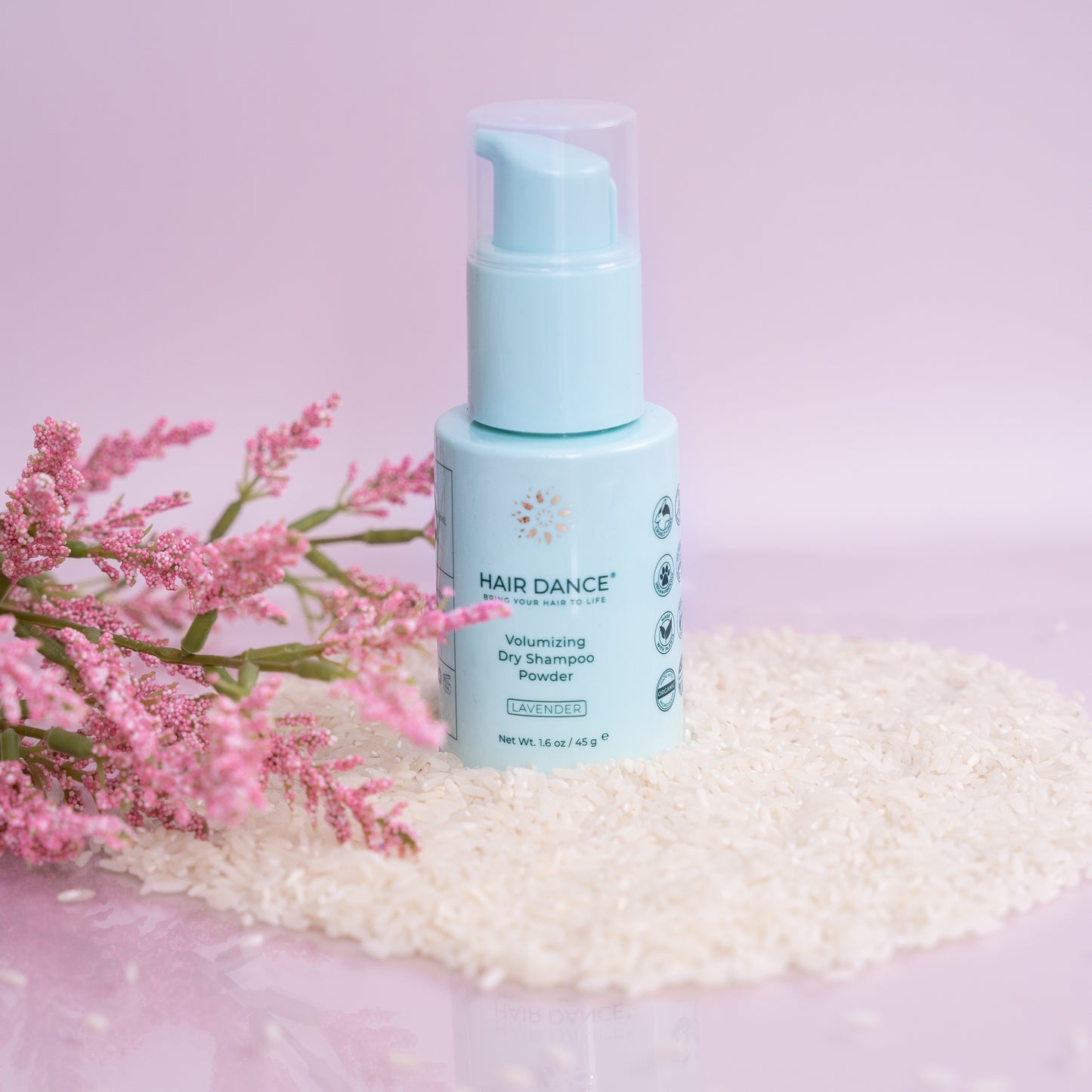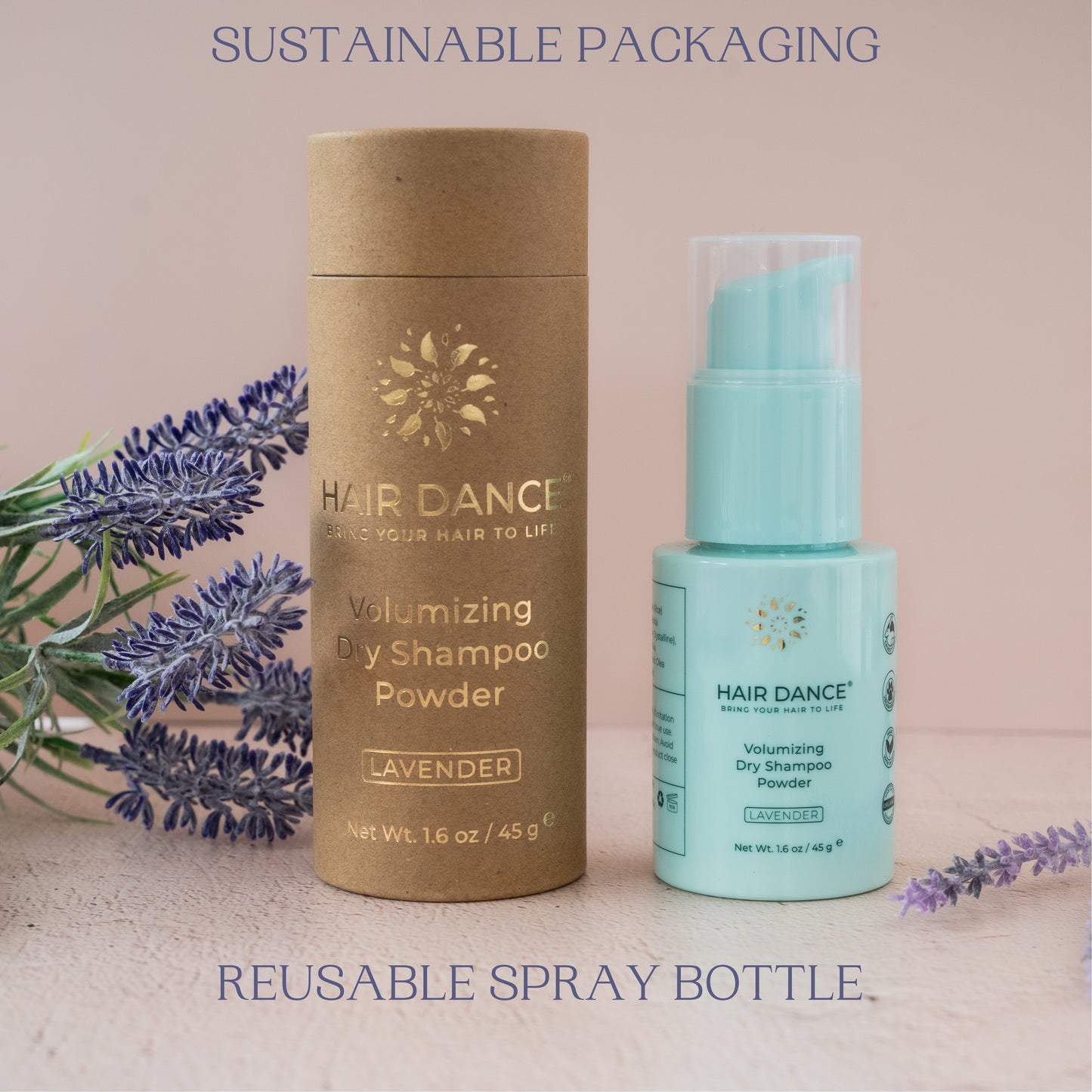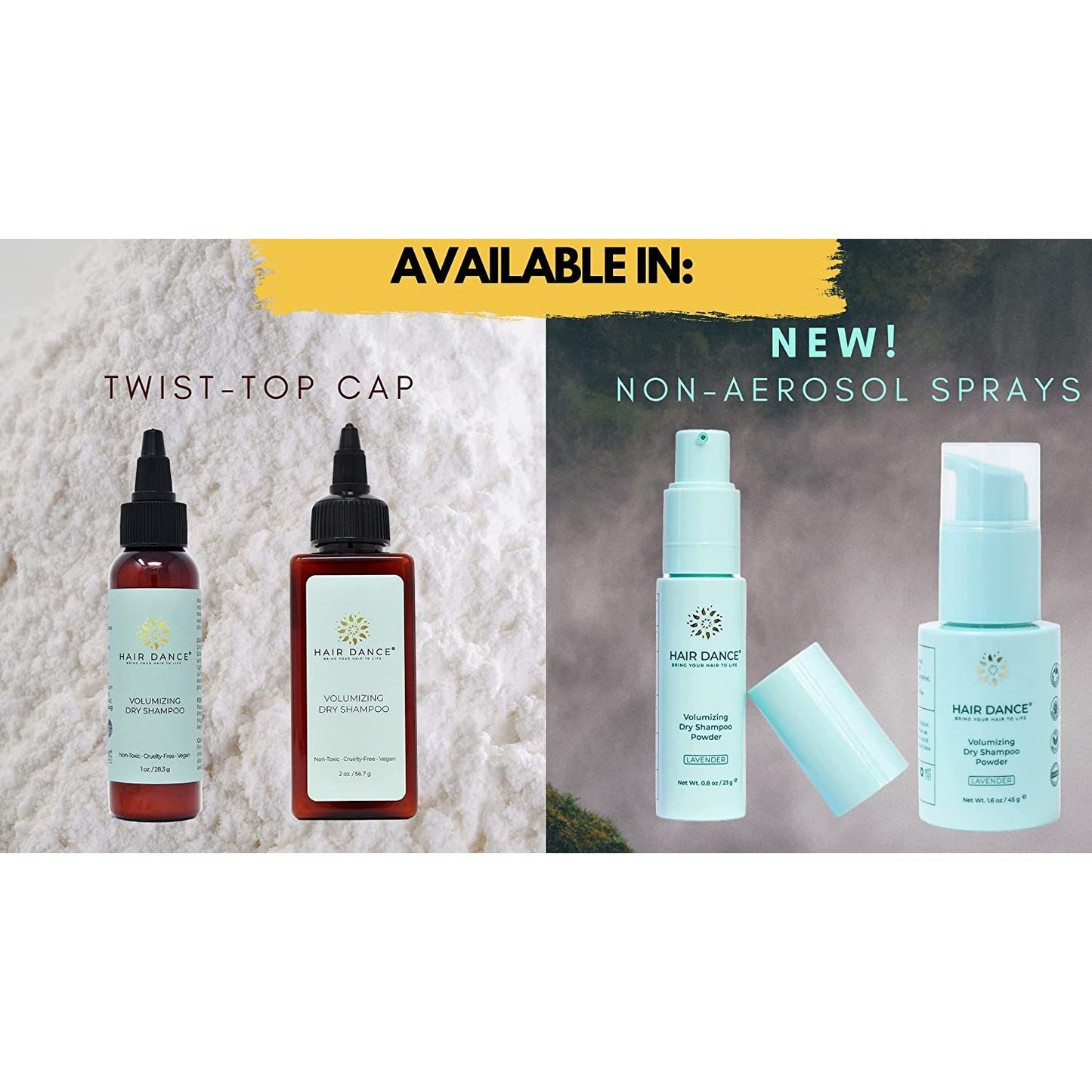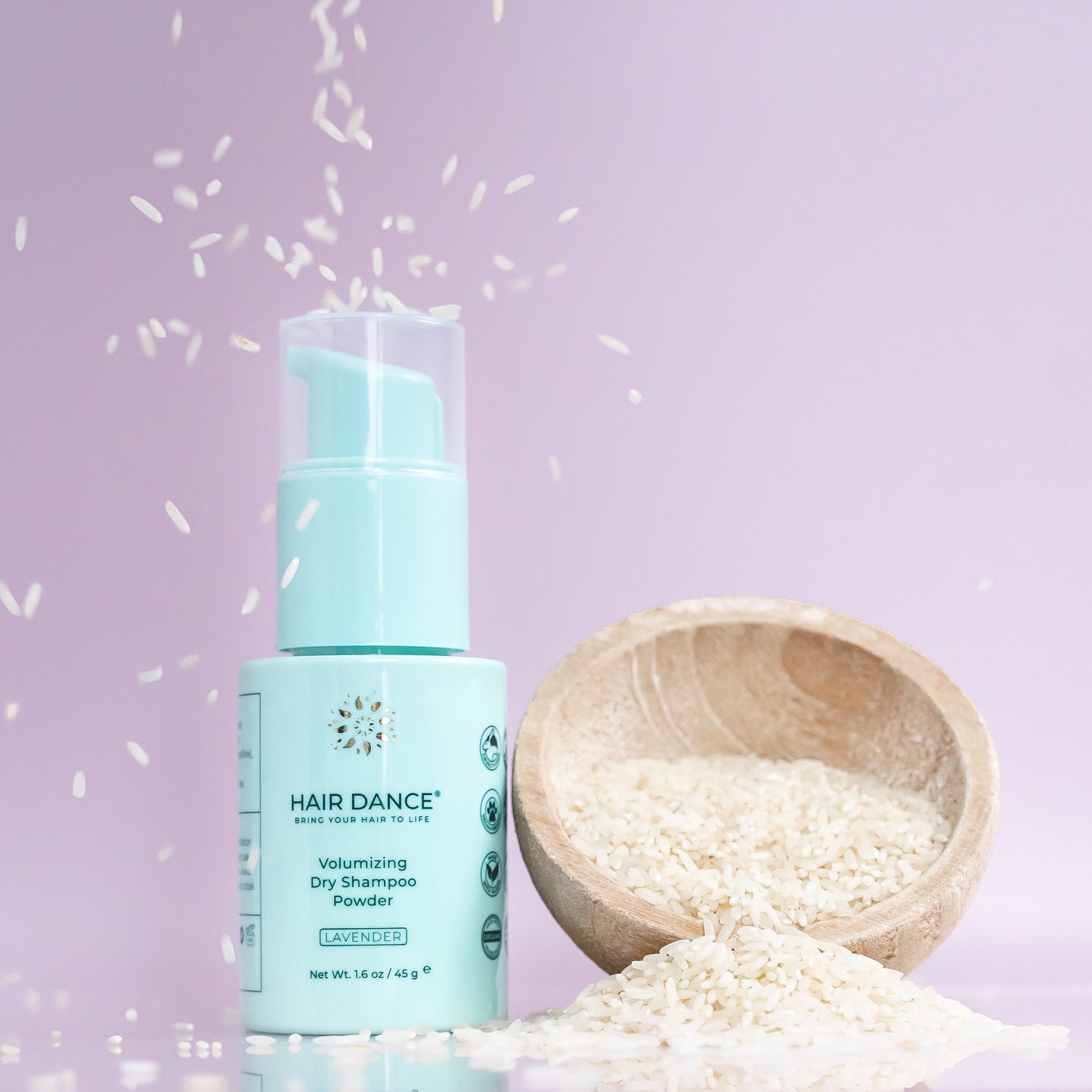 So good for oily hair!
I love this stuff! I literally start getting oily hair after 1 day. Since I started using this, along with a scalp comb/brush, I have been able to extend my wash days. Using this dry shampoo, I can get up to 4-5 days without a wash! My hair has been growing back and looks so good because I've been able to use the dry shampoo and not have to wash my hair so much.Only problem I have is that I can some time get white little flakes/ dots when I use too much dry shampoo but then I just use a Batiste dark hair dry shampoo to help add some color back into my hair and I'm good to go. If you are like me and you tried so many different dry shampoos, take a chance and try this one.
A Little Effort for Dark Hair, but Smells Lovely
This stuff is great at absorbing excess oil. Definitely a plus on day 4 of not washing my hair. I have to make sure to rub the product in thoroughly because it can leave a white cast on my brown hair if I'm not careful. The pump can stick a little, but it loosens up after a few uses. Smells fantastic!
The beeest!
I've been meaning to review this stuff for awhile because I've been using it for quite awhile and have loved it since the first time I used it. GAME. CHANGER. 😭 🙌 If you have fine hair that gets greasy really quickly to the point where you feel like if you don't wash it every day you'll look gross, this stuff is for you. I only wash my hair 2-3 times a week now and use this in between. It's amazing!
Love love love this stuff!
I have tried so many dry shampoos, and decided to try this one because of the great reviews. I was not disappointed! My hair is thin and can get greasy by the end of a wash day, so dry shampoos are a must for me. This powder is thin and takes the greasy appearance right out of my hair. I love how easy it is to apply using the pump, and it doesn't leave a white/gray appearance on my dark brown hair. It does take a little TLC working it into my roots, but makes it look freshly washed. This is now my go-to dry shampoo, and one bottle lasts forever!
Wow! Game changing hair product
As a man who didn't start growing long hair until my late 20's, products like Dry Shampoo were always puzzling to me. How could it clean if it's not being washed away? Well, for those curious, Dry Shampoo is a bit of a misnomer. The function of dry shampoo is to soak up oils in your roots that give your hair a greasy look and are weighing it down. With long hair, we don't wash it every day and between sweat and product, there can be a lot lingering up there. This helps alleviate some of the ickiness until we can get a good wash in.
This is my favorite dry shampoo I have used. The non-aerosol aspect means it doesn't get everywhere, is better for the environment, you can travel with it as it is not compressed, and generally smells better (a lot of aerosol stuff smells funny to me). It just kind of shoots out a bit of powder when you push down.
After working it into my roots I noticed an immediate improvement in both hair texture and volume. The greasiness had all but abated but I still had a nice shine to my hair. Since my roots were no longer weighed down by the oils, after a little tussle my hair turned into a lion's mane. I also found that my hair had a much cleaner feeling texture after use compared to other dry shampoos I have used.
It smells light and floral and almost sweet but it's not overwhelming. I only notice the scent when I apply it, not really after, unlike a lot of aerosols I've used which feel almost caustic to breath in while using.
After using this for the first time I was literally awed by the difference. If you're looking into dry shampoo or changing what you normall use, give this a try. You won't regret it.
Love this!
I love this product! I'm a batiste girl, I have tried so many other dry shampoos because batiste can leave a lot of build up in my hair, but nothing worked as well to absorb oil and make hair look less flat and more voluminous. But, then the whole benzene situation in most aerosol dry shampoos had me wanting to really find something that worked, plus wasn't an aerosol. This is precisely that! It smells really nice, applies easily, and rubs into the hair well. Absorbs oil and hair looks more voluminous, but doesn't leave build up. I've found I like to very lightly dampen my roots with a spray bottle first and then apply, because iys easier to rub into roots and make sure there's no white left. But you don't have to do that, I just use homemade rosemary water every day anyway so it works perfectly! This is definitely my new go-to dry shampoo.
Pure Gold…
For the last 15 years, I have been jumping around from product to product trying to find the best dry shampoo out there. I have literally tried every store name or off the counter drugstore brand there is… This is the best I have ever had in my life. It lasts for so long, and the volume is absolutely, unreal! This has far exceeded all of my expectations. I will be a user for life. If you use dry shampoo, and you never tried this. You were missing out.
OMG!!
Sooo, I was wondering how a spray powder would work, and this is genius! It's like a little puff of air comes out with the powder and helps it get to your roots which makes lifting the hair with your other hand while you apply much easier! I LOVE this concept!! That said, I would use this before getting dressed, as there is just a tiny bit of powder sprinkle that may land on shoulders as you are getting the hang of this brilliant new pump! Good BYE to toxic aerosol sprays FOREVER. THANK YOU for making this simple, effective and pleasant solution!! Fragrance is genuine real lavender, and does not linger. It actually relaxed me. Powder dissappears once massaged in. Even really greasy hair was perked up enough to add an additional day to wash. Super pleased, and super relieved to find something that is both great and non-toxic!! This just made my week!!
The ONLY dry shampoo I'll use
I think I've reviewed this before but honestly it deserves multiple reviews. This is the ONLY dry shampoo I'll ever use. I've been using this product for like 3 years now. I used it back when it was in the squirt brown bottle and they've only improved it by putting it in that pump. It's the only product that doesn't make my hair greasy. Every other dry shampoo I've tried makes my hair MORE greasy than it was to start. This sucks up all the oils and it smells good. I just went 4 days without washing my hair and this product is the only way I was able to do that! I could NEVER do that with a typical aerosol dry shampoo. And even tho the bottle is small one lasts me almost a year even with using it often. I'd give it more stars if I could!
Super easy to use!
I became allergic to spray dry shampoo (which was good since after doing some research found it is highly carcinogenic). I found it sometimes won't puff out powder but if you shake it and try again it works fine. Easiest powder dry shampoo I have found to date. And I've tried a lot of them….